2014-2016 Grand Sage's Cup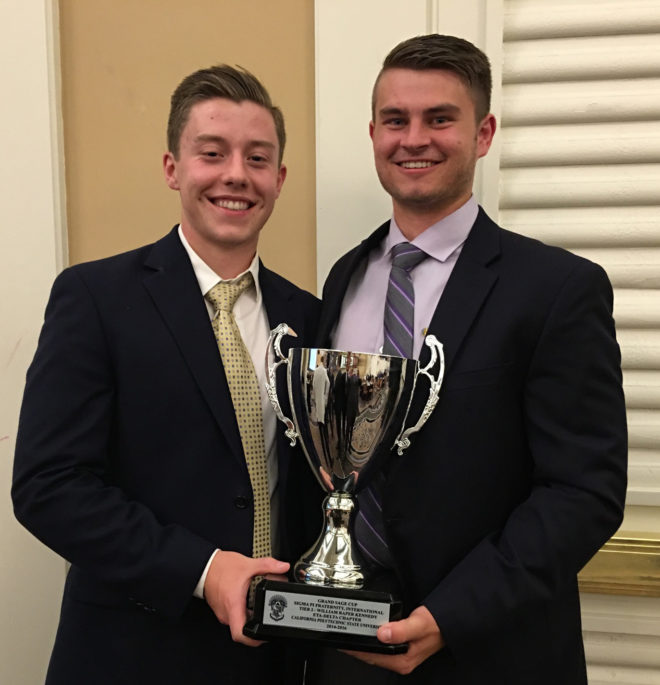 One of Eta-Delta's proudest achievements to date is winning the Grand Sage's Cup. Awarded by Sigma Pi Fraternity, International, our national organization chooses the 4 chapters of the 118 nationwide that are most representative of the ideal Sigma Pi chapter. With major contributing factors like our Suicide Awareness Week, having over 20 hours of community service and $100 of philanthropic donations per man annually, and a revamped academic program that was rolled out this last year, the Eta-Delta Chapter took home the cup!
---
2016 ISO of the Year
Facing tough competition against over 45 other fraternities, sororities, and student clubs, Sigma Pi was recognized as the 2016 Cal Poly Independent Student Organization of the Year. Commended for our relationships with local non-profit organizations like Growing Ground SLO and Global City Farm SLO, as well as our continued member education seminars, Sigma Pi was humbled to accept the award. This award was a culmination of hard work to better our San Luis Obispo and Cal Poly communities through chapter-wide and individual efforts.
---
2016 Greek Week Champions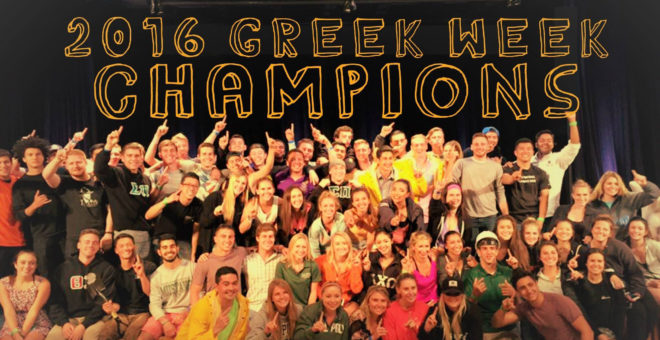 Teamed up with the lovely ladies of Alpha Chi Omega and the hardworking men of Theta Chi, Team Leo took home the win! While the athletics and sand castle competitions were fierce, the perfectly choreographed efforts of Alpha Chi Omega locked in the win with the Lip Sync performance! Above all, we were proud to have contributed to a Greek-Wide donation of $4,250 to Jack's Helping Hands, as well as hundreds of food cans to the San Luis Obispo Food Bank.
---
2014-2016 Outstanding ACE Project
Standing for "Altruistic Campus Experience", our ACE Project last year was our Annual Suicide Awareness Week. This week consisted of interactive activities, suicide prevention speaker, and a nationally certified QPR training for Greeks. These efforts were recognized by our national organization as one of the Top 4 projects in the nation, the highest award for ACE Projects.
---
Largest "Walk a Mile in Her Shoes" Greek Attendance – 2016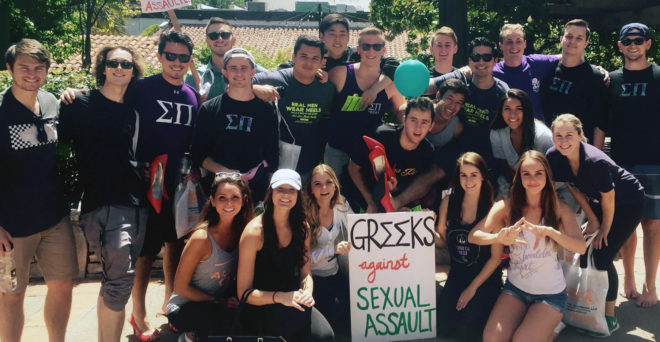 To show our support for RISE and their continued efforts to end sexual assault, Sigma Pi showed our support in our numbers, earning the Largest Greek Attendance at RISE's annual Walk a Mile in Her Shoes event.