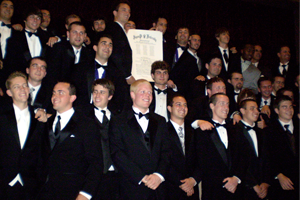 The Eta Delta Colony of Sigma Pi Fraternity, International was formed in 1987 on Cal Poly campus. On May 21, 1988 it received its official charter and the chapter was established. The Eta Delta Chapter was present at Cal Poly for 12 strong years when it died out in 1999. On March 3rd, 2006 the chapter was re-colonized at Cal Poly. Little did the men standing in that room know the trials and tribulations the Colony would go through in order to charter.
From the original group of 26 from the Spring Quarter of 2006, only seven would complete their pledgeship to Sigma Pi and become initiated. After the first elected president was kicked out of school for poor grades, many members took that as a sign that the fraternity was dead. The nine who came back for the fall were Greg Gonzalez, Tyler Quinn, Ray Truman, Massimo Becker, Florian Mettetal, Henry Phan, James Said, Chris Jagger and John Wilhelm. During the entire fall quarter, the colony only managed to gain two new members. To make matters worse, John Wilhelm dropped during the quarter and Greg Gonzalez at the end of the quarter. Things looked bleak for Eta Delta colony.
At the beginning of winter quarter, a new executive council was elected with Henry Phan as President, Tyler Quinn as Vice President, Ray Truman as Treasurer, Chris Jagger as Secretary, Florian Mettetal as Sergeant at Arms, and James Said as Historian. This group realized that nearly everything needed to change about the way the colony functioned. The biggest change was focusing all energy on recruitment. Henry, Florian, and James attended a Mid-Year Conference in order to enhance their leadership abilities. They returned just in time for rush week during which the colony expanded from 10 to 19. From that point until the end of the year, the colony expanded until it reached 30 brothers. When everyone returned for the fall, they kept recruiting to get to the target mark of 40 brothers for nationals.
When Phan's term came to an end and he decided not to run for re-election, the colony voted and elected Jeremiah Johnson to the Presidency, with a Council of Florian Mettetal as Vice President, Massimo Becker as Treasurer, Chris Jagger as Secretary, Dan Loesch as Sergeant at Arms, and James Said as Historian. This Executive Council would lead the Colony as it grew and ultimately, on May 31, 2008, received its Charter to become a recognized Chapter of Sigma Pi International.
The first year as an official Chapter would see Sigma Pi Eta Delta grow in numbers and in character. By the end of 2008, the chapter numbered almost 50 men strong and began to make its name in Cal Poly Greek life. With a top five overall finish in Cal Poly's annual Greek Week, Sigma Pi proved that even though it was only a "small/medium" fraternity in numbers, the qualities and skills of its members make it a worthy part of IFC and a valuable asset to Cal Poly and the surrounding community.